________________________________________________________________


For a complete event schedule including ongoing programs, discussion groups etc. see CALENDAR tab above. Sign up for our eNewsletter – see bottom of column on the left.



_________________________________________________________________


Saturday June 17th 5pm
Party in the Park!
8th Annual Library Gala
Honoring Bill Rasweiler DVM
Taking place this year again at the Roe Jan Park. Tasty hors d'oeuvres & wine, music, raffle, silent auction and live auction with unique and interesting items. Tickets, $100 each, can be purchased at the library or if you want to pay by credit card, online here.
Displayed on-screen continuously throughout the Gala will be a slide tribute to Bill. Join the many others who are congratulating our remarkable honoree with a slide and a message of congratulations and recognition. Use this form to make your donation and request your slide. Drop it off at the library or mail it to PO Box 669, Hillsdale, NY 12529.
_________________________________________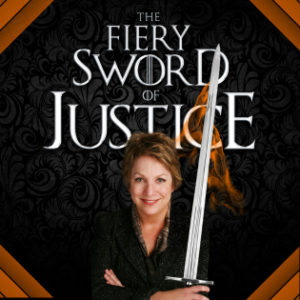 Rescheduled
Saturday, June 3, at 3 pm
Hillsdaler to Perform
"The Fiery Sword of Justice"
Tickets on sale at the library and online here.
"The Fiery Sword of Justice", a critically acclaimed comedy about how one business woman's compulsive truth-telling torpedoed her career, will be staged at the historic Ancram Opera House on Saturday, June 3, at 3 pm as a benefit for the Roeliff Jansen Community Library.
The play is written and performed by Lauren Letellier. After a decades-long career in New York as an award-winning communications executive, Lauren is now a Hillsdale-based writer, actor, and voice artist as well as a volunteer at the library both at the circulation desk and on committees.
"The Fiery Sword of Justice" received rave reviews at the 2014 New York International Fringe Festival, where critics called it "Bold, funny, wise and brave … cannot be missed!" (StageBuddy.com); "An enlightening piece of work … wicked, sharp and funny!" (T2Conline.com) and "The most original piece … at the Fringe" (NYTheaterGuide.com).
A reception with Ms. Letellier and director Martha Wollner will follow the performance.
__________________________________________
Tony Thompson – Hudson Valley
Opening reception for the artist
Hudson painter Tony Thompson has had numerous solo shows in Boston and New York. His work has been exhibited at the Museum of Modern Art, NYC and the Institute for Contemporary Art in Boston and many other venues in the USA and Europe. This exhibit of Hudson Valley Paintings will run through July 4th.
_________________________________________
LINDA HORN
Where Do We Go From Here?
Opening Reception for the Artist
Sculptures by Linda Horn will be on exhibit through May 28th. Linda Horn "is always ready for adventure and experiment which is why her work continues to be so fresh and provocative." – Victor M Cassidy, Chicago Artist News
_________________________________________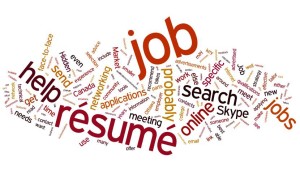 Job Search Help
Fridays – 2:00 to 4:00
Eleven people have found jobs in the last 2 years using the resources of the library! You can too. Drop by the Roe Jan Library between 2:00 p.m. and 4:00 p.m. on any Friday to get help using the internet to search for a job. Beth Gordon will provide assistance with searching for opportunities, tips on resumes and cover letters and advice on how and where to present your resume online. Bring your resume if you have one.
________________________________________
RJCL Business Partners
Check out and support the 70 local businesses and professionals who have made an investment in the community as supporters of the Roeliff Jansen Community Library. Whether Platinum, Gold, Silver, Bronze or Copper, they recognize the value of the library to the community.
_____________________________________________________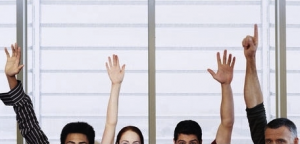 Volunteer Opportunities
Join nearly 200 people in this community who volunteer for the library. We have immediate need for help in the library and serving on various project groups including the annual fundraiser celebration. To learn more click here.
_______________________________________________________
Free Museum Passes Available
The Friends of Roe Jan Library offers twelve free museum passes for use at:
Berkshire Botanical Garden
The Berkshire Museum
Children's Museum of Science and Technology in Troy
The Clark Museum
The FASNY Museum of Firefighting in Hudson
The Hancock Shaker Museum
Mass MoCA
The Mount – Edith Wharton's Home, Lenox, MA.
The Norman Rockwell
Olana
The USS Slater Destroyer Escort Historical Museum in Albany
Steepletop
Click on the flyer below to see what each pass includes. All of the passes can be reserved or checked out at the Library for one day with a library card; only one museum pass per family per day. For more information call 325-4101.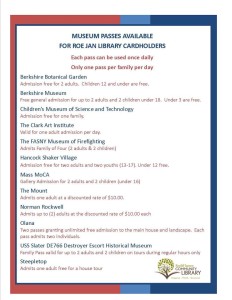 _____________________________________________________
CONTINUING EVENTS Mondays 8:00-9:30am – Yoga Conducted by Roberta Roll. Weekly yoga classes are suitable for beginners and more advanced students. $20 per class or $95 for a series of eight classes. A portion of the proceeds helps support Library programs.
First Tuesdays 10:00-11:30 am – Friends of the Roeliff Jansen Community Library Meeting, Community Room.
Second Tuesdays 6:30 to 8:30pm – Roeliff Jansen Community Library Trustees Meeting, Community Room.
________________________________________________________________


Playing On Air Short Plays, One Act Plays, Podcasts, Listen, Radio Show on Public Radio