__________________________________________________________




Printable Fall Event Calendar – click HERE (right click on calendar to print). For a complete event schedule including ongoing programs, discussion groups etc. see CALENDAR tab above. Sign up for our eNewsletter – see bottom of column on the left. Follow us on Twitter: @LibraryRoe
_______________________________________________________
The Library will be closed on Sunday December 6th
Except for: the Friends Cookies and Raffle Basket Sale and The American Legion Oratorical Contest.
_______________________________________________________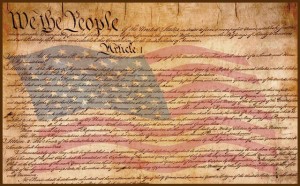 Sunday December 6, 1:00
American Legion Oratorical Contest

The library is hosting the Columbia County American Legion Sponsored Oratorical Contest – Hear high school students from Taconic Hills and Germantown speaking about various aspects of the US constitution with emphasis on the duties and obligations of citizens to our government. Spectators are asked to arrive by 12:45pm.
Speeches are eight to 10 minutes long and the event is open to the public. Local winners will advance to statewide competitions and could qualify for the national championship. Nationwide, contestants will compete for a total of $138,000 in college scholarships. More information about the contest can be found at wwww.legion.org/oratorical.
_________________________________________
Art Show
Through November 29th
Ancram Collage Artist Lynne Perrella
"Travels & Talismans: Canterbury Tales Re-imagined"
This new body of mixed media work by Perrella provides a renewed appreciation for a classic medieval narrative poem. Inspired by descriptive passages from Chaucer's rich portrait of humanity, Perrella has created a series of mixed media portraits offering new insights into these storied travelers. From the Wife of Bath to The Pardoner, each persona is re-interpreted and decoded via lavish layers of paint, mark-making, and collected papers and ephemera – as new tales and untold secrets are illuminated. The vast variety of Chaucer's characters, from curious to coarse, provide a visual feast of possibilities; newly-revisited in this literary-inspired exhibit.
Artist Lynne Perrella is a mixed media artist, author of five books on collage, and hosts creativity events throughout the United States and abroad. A portfolio of her work is featured in Masters: Collage: Major Works by Leading Artists, an international overview of the art form. The artist's website: www.LKPerrella.com.
_________________________________________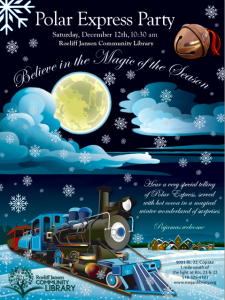 Saturday December 12 10:30am
Polar Express Party
Don't miss it! Believe in the magic of the season. Hear a very special telling of Polar Express served with hot cocoa in a magical winter wonderland filled with surprises. Pajamas welcome. No sign-up is required.
Children must be accompanied by an adult who will stay in the building during the event. The library will be closed to regular patrons until 12:30 on that day.
"The Polar Express story will be brought to life by our gifted storyteller; hot cocoa and surprises will be served in a winter wonderland. Last year's event was a huge success, and we have made a few changes to keep it magical and unexpected," says Ashling Kelly, the library's Youth Program Planner.
__________________________________________
Up Coming Events
Friday – Sunday, December 4 – 6, 10:00 – 4:00
Cookies & Baskets & Books & More
Friends of the Roe Jan Library

Buy homemade cookies and soups, books, and chances on gift baskets. Plus, new this year, crafts and the Friends' Cookie Cookbook.
Sunday December 20, 5:00
Berkshire Hillsmen Holiday Concert
__________________________________________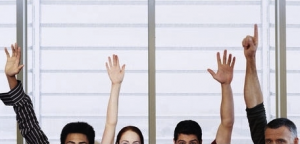 Volunteer Opportunities
Join nearly 200 people in this community who volunteer for the library. We have immediate need for help in the library and serving on various project groups including the annual fundraiser celebration. To learn more click here.
_______________________________________________________
Free Museum Passes Available
The Friends of Roe Jan Library offers seven free museum passes for use with Mass MoCA, the Berkshire Museum, the Norman Rockwell, the FASNY Museum of Firefighting in Hudson, the Hancock Shaker Museum, The Clark,  and the Mount – Edith Wharton's Home, Lenox, MA. Each pass, except the Mount and the Clark Art Museum, offers two to four adult entrances, some child benefits and discounts on gift shops. At the Mount, with pass the admission is $10.00 for two adults (savings of $8.00/person), Kids & Teens free admission.  The Clark pass is good for one adult admission; children under 18 are free. All of the passes can be reserved or checked out at the Library for one day with a library card. For more information call 325-4101. _____________________________________________________ CONTINUING EVENTS Mondays 8:00-9:30am – Yoga Conducted by Roberta Roll. Weekly yoga classes are suitable for beginners and more advanced students. $20 per class or $95 for a series of eight classes. A portion of the proceeds helps support Library programs. First Tuesdays 10:00-11:30 am – Friends of the Roeliff Jansen Community Library Meeting, Community Room. Second Tuesdays 6:30 to 8:30pm – Roeliff Jansen Community Library Trustees Meeting, Community Room. ________________________________________________________________
Playing On Air Short Plays, One Act Plays, Podcasts, Listen, Radio Show on Public Radio