Save the date! Help us celebrate!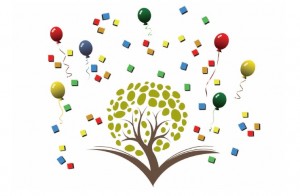 The Birthday Party For The Century
Roeliff Jansen Community Library 1913 – 2013
The Roeliff Jansen Community Library's Fourth Annual Gala
Saturday June 8, 5:00 – 7:30 pm
Camp Pontiac, West Copake
Tickets $100 each – at the library or online here.
"The library's 100th Birthday Gala entertainment is truly special," says Chair of the Entertainment Committee, Cheryl Jones. "We will have the Mike Schiffer Trio, who did such a fantastic job last year, performing instrumental jazz. And for the showcase cabaret event, the very talented, versatile, witty, and acclaimed Laurel Massé, founding member of The Manhattan Transfer."
The Gala's featured performer, Laurel Massé, has had a long and highly successful career as a solo artist following her seven-year tenure with The Manhattan Transfer. Two of her early solo recordings made the Billboard Jazz charts, and one was a People magazine pick. Her 1999 recording "Feather and Bone" was described by the audiophile magazine The Absolute Sound as "a recording of extraordinary musical and sonic value." As a studio singer, Ms. Massé has appeared on CDs of many artists and genres.
"All of the musicians are relatively local which makes this celebration especially heartfelt," says Jones. Ms. Massé was the creator and host of "The Laurel Massé Jazz Show" which ran for two years on WAMC Northeast Public Radio. And Jones notes, "The Berkshire's beloved Mike Schiffer has been performing exceptional instrumental jazz for local audiences since 1968."
Participating local restaurants include Aegean Breeze, Bert's Inn, Bizen, Café Adam, Castle Street, Copake Deli, CrossRoads Food Shop, The Dutch Treat, Earth Foods Café and Deli, Four Brothers, The Greens, Hillsdale House, John Andrews, Koi Chinese Restaurant, Local 111, The Meat Market, Number 9, O's Hillsdale Diner, The Old Mill, Park Falafel and Pizza, The Pond, Red Dot Bar & Restaurant, Route 7 Grill, Swiss Hutte, Swoon Kitchen Bar, Stagecoach Tavern, and Taconic Wayside Inn.
Participating area caterers, shops and purveyors include Amazing Real Live Food Company, Camphill Village Bakery, Carlucci Simons Catering, Copake General Store, The Farmer's Wife, Hillsdale IGA, Hillrock Distillery, Hawthorne Valley Farm, Julie Gale's At The Kitchen Table Cooking School, Koppers Chocolate, Marketplace/Guido's Kitchen, Michael Chesloff's Catering to Your Taste, Old Chatham Sheepherding Company, SOCO Creamery, Village Scoop.
Chef's Consortium, an organization of New York chefs promoting the local food movement, will be serving up foods from local farms.
Plus Live & silent auctions of unique items and services – details to come.
RAFFLE – over $1000 basket of goodies – Tickets $5 or 5 for $20 available now at the library.
(Click on image for bigger picture of the raffle basket.)