2017-2018 Business Partners
The Roeliff Jansen Community Library Business Partners are 60 local businesses that have made an investment in the library by providing financial support. These businesses recognize the value of the library to the community and their support helps make it possible for the library to serve the community by helping to pay for salaries, Internet service, books, magazines, children's programming and so much more.
We hope you will consider supporting these library Business Partners. And let them know that you appreciate that they support the RJCL.
Click HERE to see a list of Business Partners by business category with contact information.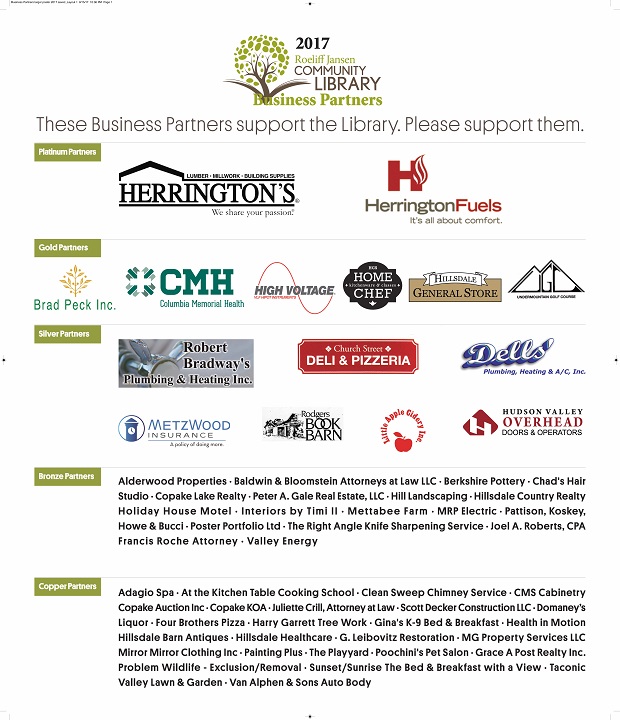 Platinum Partners
Herrington Fuels, Herrington's
Gold Partners
Brad Peck Inc.; Columbia Memorial Health; High Voltage; Home Chef; Hillsdale General Store; Undermountain Golf Course
Silver Partners
Robert Bradway Plumbing & Heating; Church Street Deli & Pizzeria; Dell's Plumbing & AC Inc.; Hudson Valley Overhead Doors and Operators; Little Apple Cidery, Inc.; MetzWood Insurance; Rodgers Book Barn.
Bronze Partners
Alderwood Properties . Baldwin & Bloomstein Attorneys at Law LLC . Berkshire Pottery . Chad's Hair Studio . Copake Lake Realty . Peter A. Gale Real Estate, LLC . Hill Landscaping . Hillsdale Country Realty . Holiday House Motel . Interiors by Timi II . Mettabee Farm . MRP Electric . Pattison, Koskey, Howe & Bucci . Poster Portfolio Ltd . The Right Angle Knife Sharpening Service . Joel A. Roberts, CPA . Francis Roche Attorney . Valley Energy.
Copper Partners
Adagio Spa . At the Kitchen Table Cooking School . Clean Sweep Chimney Service . CMS Cabinetry . Copake Auction Inc . Copake KOA . Juliette Crill, Attorney at Law . Scott Decker Construction LLC . Domaney's Liquor . Four Brothers Pizza . Harry Garrett Tree Work . Gina's K-9 Bed & Breakfast . Health in Motion . Hillsdale Barn Antiques . Hillsdale Healthcare . G. Leibovitz Restoration . MG Property Services LLC . Mirror Mirror Clothing Inc . Painting Plus . The Playyard . Poochini's Pet Salon . Grace A Post Realty Inc. . Problem Wildlife – Exclusion/Removal . Sunset/Sunrise The Bed & Breakfast with a View . Taconic Valley Lawn & Garden . Van Alphen & Sons Auto Body.